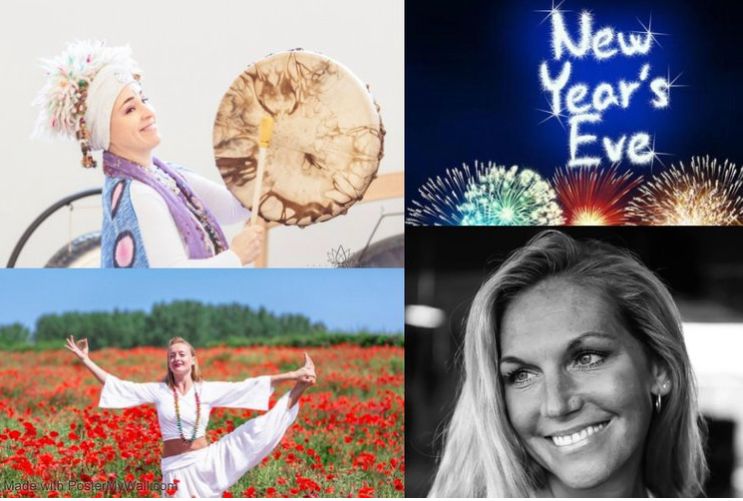 JOIN Lisa Cuerden, Rach Cox & Kwali Kumara FOR A DELIGHTFUL, RELAXING AND FUN WEEKEND, OVER NEW YEARS EVE
Friday 31st December 2021 - Sunday 2nd January 2022
We have exclusive use of a lovely manor house in the cotswolds, beautiful rooms, facilities and practice spaces. All food is vegan and prepared by the on-site chef, especially for our retreat & celebrations.
New Years intentions and ceremony, yoga, breath, meditation, walks, talks, Gong Baths & genuine lovely connections….we love putting on events where people can come and have a laugh, feel connected to themselves and others, leave feeling way better than when they arrived and generally have an outstanding time in wonderful surroundings.
SCHEDULE:
Friday 31st December
Arrivals from 5pm
6-6.30pm Grounding Breath & Meditation
6.45-7.30pm Opening Ceremony
7.45pm Lush Evening Meal
9.30pm Om & Bass Chakra Dance #PartyVibes
11pm Gong Bath & Intentions
12 - HAPPY NEW YEAR
Saturday January 1st
8.30-8am New Years Morning Meditation
9am-10.30am Yoga & Breath
11am Brunch
12-1pm Country Walk
1.30-3pm Gong Bath & Breath Work
3-4.30pm Break / Nap
5-6.30pm Yin Yoga & Meditation
6.30pm Evening Meal
8.30pm Yoga Nidra
Sunday 2nd January
8.30-9am Morning Meditation
9-10.30am Yoga & Breath
11am Brunch
12-1 Break
1-2pm Energy Work / Moving Meditation / Qi Gong / Tai Chi
2.30-3.30pm Closing Ceremony
4pm Teas & Goodbyes
The Dream Team are holding this weekend :) Lisa Cuerden, Kwali Kumara & Rach Cox.
You will be loved on and taken care of within an inch of your precious lives!
Triple Occupation EARLY BIRD £360pp - SOLD OUT
LATE BIRD £385PP
Twin Occupation EARLY BIRD £400pp - SOLD OUT
LATE BIRD £475PP
Single Occupation EARLY BIRD £585pp - SOLD OUT
LATE BIRD £675PP
Bookings to Rach Cox: [email protected] to save internet booking fees OR
send your deposit via the link below which adds 5% handling fees from the online agents.