YogaFit Retreats Greece 20th - 27th May 2022
I am honoured to be part of the incredible YogaFit Retreats team.
Discount code 'YOGAFITLISA'
YogaFit Retreats is launching a new retreat in Greece. This retreat promises to deliver a truly unique experience and I would be delighted if you wouldshare it with us.

The ancient Greeks were a passionate, spiritual, cultured people; a civilisation which birthed democracy and explored the philosophy of love and life in a deeper way that has perhaps been forgotten in our busy modern world. We want to tap into this beautiful and rich heritage during our time together on this retreat.

Our beach resort has an elegant and contemporary style; it is located in the tranquil area of Argolida, which is south of Athens. It's a region of extraordinary natural beauty and there are numerous historical sites to explore and a saltwater swimming pool, luxurious spa and three tranquil beaches on which you can relax.

As with every YogaFit Retreat there are a diverse array of classes and lifestyle talks available, all delivered by a team of experienced presenters who are also happy to provide one to one guidance.

Come and join us on a journey of discovery, building on both our inner and outer worlds.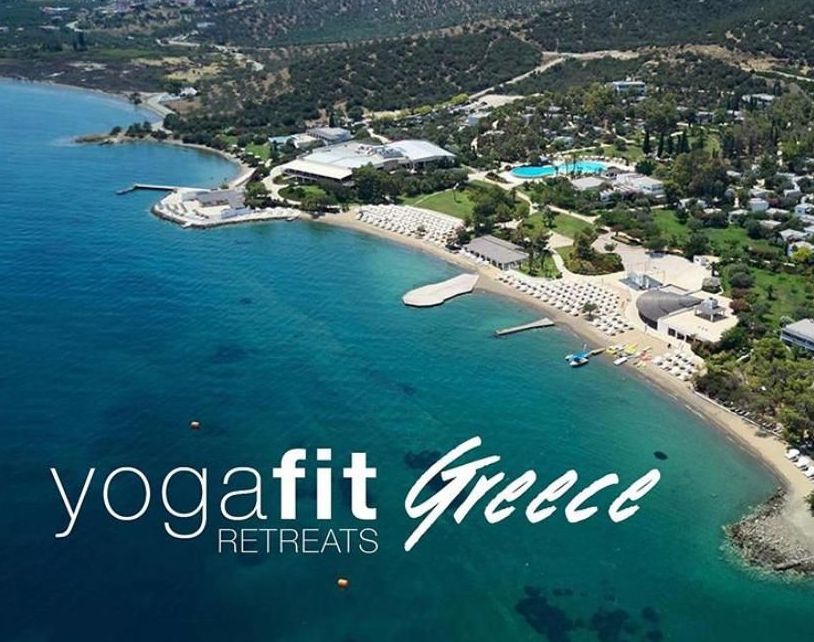 The retreat in Greece is based at The Barceló Hydra Beach Resort*****, a hotel designed in a modern style that also conserves the most authentic essence of Greece. With spectacular views of Hydra Island, it has access to three idyllic beaches with crystal-clear water, for the exclusive use of its guests.
It has a spa with sea views, with a wide range of treatments and massages as well as a beauty salon. The tennis courts and football field are just two examples of the facilities that the hotel offers to satisfy all tastes. As for the younger members of the family, they have a miniclub and a children's swimming pool.
The bars and restaurants offer a wide range of food options, catering to all dietary options.
Wrapped in a green oasis of olive trees and citrus fruit trees, the Barceló Hydra Beach provides the opportunity to relax in a luxurious environment.
The retreat runs for the week of 20th-27th May 2022; to be as flexible as possible you can book to join us for a 5 or 7 night retreat.
The closest airport to the resort is Athens International Airport and hotel transfers take approximately 3 hours.
Go to https://yogafitretreats.com/ for more information and to book your space on this life changing retreat.
When booking use discount code 'YOGAFITLISA'